This week, we're rounding up a report on the boundaries of (good, bad and very expensive) taste from our favorite design, fashion, business, and food news sources.
Lisa is intrigued by industry news that Electrolux purchased GE Appliances for $3.3 billion– we're looking forward to hearing more big things from the new appliance superpower. And for those who don't cook (and don't care about well-equipped kitchens), news of Olive Garden's site-crashing 7-week Endless Pasta promo was an a funny little morsel.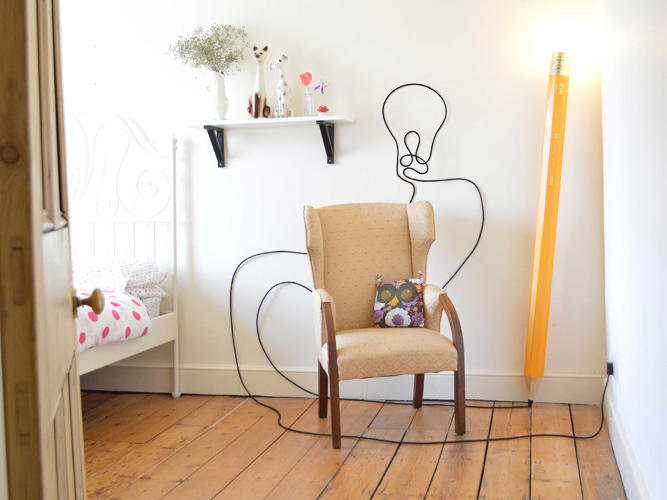 No need to hide that pesky lamp cord with this lamp from Michael & George. The pencil-shaped lamp with a light-up eraser tip and scribble cord is certainly brightening up Emily's day.
The food scene is New York has certainly evolved over the years. Rachel finds it so interesting that restaurant goers have shied away from small plate delicacies and have turned to things like farm-to-table meals inspired by Canadian staples and an innovative twist on ramen noodles!
Meghan is feeling bubbly this week, and wants a sweet new treat: POPS. Essentially champagne on a stick, this spirited popsicle-style snack is said to be favored among Katy Perry and Kate Moss. Cheers!
Miami's becoming a new design hotspot, with Maison et Objet and Design Americas debuting there in 2015. Michelle will see you on South Beach…
Margaux's immersed in the current fashion frenzy, is and amused by the ability of certain brands to break through the monotony of the typical runway show at Mercedes-Benz Fashion Week in NY.  Our neighbor Opening Ceremony is one – with its theatrical fashion show/production mocking the industry itself, while Ralph Lauren's virtual Polo show in Central Park was a holographic treat.  — Some argue that the theatrics of these particular shows overshadowed the clothes themselves, but isn't the drama half of the fashion mystique after all? The difference between a black dress and a "black dress" is all in a name, presentation and a brand's ethos  after all…
Twitter's new 'Buy' button caught Jourdann's eye this week. The platform is trying to transform its social networking service into some sort of e-commerce engine, part of a larger effort to combine purchasing with social networking.
The burning question of the week – from our team of design fiends – is this: When you buy a $1 million dollar parking spot, you can't leave it bare, right? Are 150-square-foot luxury vehicular environments the last frontier?