We're packing away our white pants and looking at what's fresh, shiny and new for – gulp – fall:
Meghan is especially reflective this week, finding inspiration in design and architecture projects that play with mirrors to create stunning visual effects. Take a look at Domus to see a roundup of the most spectacular glass acts.
Jourdann is awed by the beautiful, hand-crafted wooden lightbulb that Japanese designer Ryosuke Fukusada created for German lightbulb maker LEDON. Talk about an enlightening collaboration!
Margaux is all business. She's watching a new playbook get written as the business of PR is questioned in the political and environmental spheres. Debate stirs around the largest PR agencies in the world, and where their belief systems may contradict their clients', and sometimes their clients' beliefs are in conflict with each other.  Where they land on the ethics pendulum as a result is the discussion at hand
And she's fascinated by the decline of a multi-million dollar account, Ketchum Worldwide's representation of Putin's Russia. Which  makes us very happy that in our small niche of  design, we have the luxury of selecting our clients based on genuine merit and company cultures that align with our own.
Michelle also has the business of our business top of mind, with a plug-in that raises the red flag any time it senses that you're reading an advertorial vs. editorial content.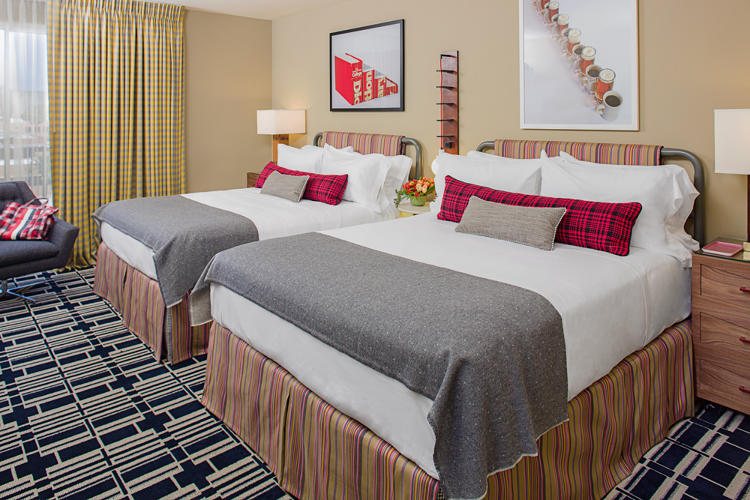 And she's very much in the back to school spirit, with a tip for those who can't let go of the glory days – AJ Capital Partners will soon be your savior with the launch of twenty Graduate Hotels in various college towns across the city.
Emily has been reading about an innovative nail polish, created by college students, that can detect the presence of date-rape drugs in drinks. And, thought it's unfortunate that we need tools like this at all, it's a valuable precaution that helps to avoid tragedy.
Rachel's still on a wallpaper kick, with a Huffington Post Home piece that goes beyond the #shelfie to showcase all of the amazing things wallpaper can transform from blah to beautiful.
And finally, Lisa is intrigued by this exploration of the value of ultra-luxe culinary items, and relieved that she doesn't need to spring for the $54,000 range for her new kitchen. 😉